Pawnee County is located in Central Oklahoma, about 60 miles northwest of Tulsa. The Pawnee Tribe was relocated to the area from their traditional homelands along the North Platte River in Nebraska between 1873 and 1875. The Tribe is comprised of four distinct bands: the Chaui "Grand," the Kitkehahki "Republican," the Pitahawirata "Tappage" and the Skidi "Wolf."
Activities
Like many smaller Native Nations and other small rural communities across the country, the Pawnee Nation faces the challenges posed by food insecurity. The Oklahoma State FRTEP Extension program at Pawnee provides strong support of nutrition education to manage and prevent diabetes and other health issues. The program is also focused on helping Pawnee youth to preserve their traditional values, culture and languages while delivering science-based programs that address food insecurity, health, social and economic problems.
Highlights
STEM-related initatives
There is a need to develop STEM-related skills, especially agriculture and engineering-related knowledge that can transform nutrition and science education at all levels in the Pawnee community. The community needs dynamic, multi-generational curricula that will prepare them to produce native traditional foods and leafy greens to meet their food security and nutrition needs. This program involves science-based approaches to engage the community in keeping abreast in the interest in STEM areas for the youth and 4-H group while incorporating nutrition education, food production, food security, food safety, food processing, culture and language to strengthen the social fabric of the Pawnees.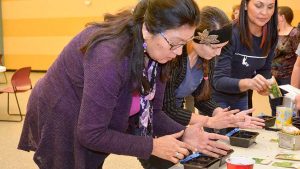 Dr. Patricia Rayas Duarte leads a collaborative team formed by Oklahoma State University extension and outreach and Pawnee Nation College faculty developing STEM-based curricula for college, youth and community members. Curricula development is targeted to hands-on training in basic gardening agricultural practices, principles of producing native crops, nutrition education, preparation and preservation of native foods, food safety, culture, language and sustainability in an interconnected way. Audiences includes youth, Native college students and inter-generational participants, including elders knowledgeable of native cultural practices, which could be otherwise lost if not shared and recorded in a systematic way.
The team of extension educators and staff from Pawnee Nation College are working side-by-side in all aspects of the project. Participants learn how to grow their own garden, attend science camps and go on visits to meet with other tribes. Interactions are recorded so that elders can preserve and transfer traditional knowledge.
Update on activities
Developed curricula for two science camps (winter and spring) for youth focused on culinary and medicinal herb planting from seeds.
Preparing raised garden beds to plant the traditional three sisters (corn, beans and squash) plus other plants such as tomatoes, culinary herbs, watermelon, a variety of peppers and leafy greens.
Students attended a science and cultural trip to Nebraska, homeland of the Pawnees. The visit included taking part in a Native Corn conference and STEM classes with information sharing between Tribal College students from Pawnee Nation College and others. Other activities included technical training on water, soil and environment interactions as well as visits to farms and cultural institutions.
Pawnee Nature Trail
The Pawnee Nature Trail is being developed on the grounds of Pawnee Nation. Participants who use the trail will learn how to identify native and invasive species, edible, medicinal and ceremonial plants. Plants used for building, basket making and extraction of pigments will also be identified. A poster is being developed with information about the plant name and uses. There will be QR codes on the posters so that users can scan the information with personal electronic devices when walking the nature trail.
COVID-19 Activities
Used plasticulture production in a large new community vegetable garden
Expanded the size and number of community gardens
Conducted food preservation of summer produce, canning pickled okra, chili peppers, dill and watermelon grinds for the community
Conducted a hands-on training workshop for construction of a solar dehydrator
Supplied personal protection equipment (PPE) for volunteers at the community garden
Provided gardening equipment and supplies
Coordinated Zoom training on horticultural food production and produce safety
Promoted container gardens to specific groups of the community
Provided seedlings for home summer vegetable and herb production
Procured needed supplies for Pawnee Seed Preservation Partners Project
Contact Information
Patricia Rayas Duarte – Program Director
pat.rayas_duarte@okstate.edu