The Navajo Nation consists of 17 million acres, or about 25,000 square miles, approximately the size of West Virginia and three times as large as Massachusetts. The Shiprock Agency is located in the Northeastern part of the Navajo Nation and its reach extends into the Four Corners region of Arizona, Utah and New Mexico.
Activities
Agriculture continues to be a livelihood for a majority of the Navajo (Dine') people. Livestock production is a dependable staple that provides food and revenue for Navajo families. The goal of the Shiprock Cooperative Extension Office is to enhance the attitudes, knowledge, skills and behavior of Navajo Nation agricultural producers, both adults and youth, through delivery of intensive training, technological adaptation, agri-business projects and development of food policies.
Highlights
American Indian Producer in the New Economy
Shiprock Cooperative Extension office encourages producers to adopt sustainable agricultural practices, which are attainable through intensive training and technology. With this guidance, producers have been able to develop agri-business projects and address food security within the Nation. Extension agents have conducted classroom sessions with hands-on demonstrations and techniques, and utilize professional experts from universities, and Tribal and Federal programs. Through collaboration with partners locally, statewide, nationally and internationally, the Extension team has initiated pilot projects for agribusinesses and established focus groups to address food security on the Navajo Nation to aid in the development of food policies.
Farm safety
Following a survey which revealed that few producers in the community were practicing safety on their farms, the Extension agent installed a successful prevention program. Presentations were delivered in the community on multiple topics, including cattle handling safety, the safe use of chemicals and pesticides and canal ditch safety.
Model Farmer program
The program involved 120 farmers, who were divided into treatment and non-treatment groups. Participants were able to see a vast difference in how they applied agricultural practices on their land. Grant funding was used to purchase cattle systems that consisted of chutes, panels and equipment for improving herd health.  Every four years this equipment rotates among communities so that many different producers have the opportunity to use it.
Bilingual program delivery
Shiprock Extension programs have been very well-received, especially when the agent was able to converse with her own people in their native language. Many of the people who came to the presentations were elders, who held grazing permits. At one time there was program funding for bilingual education in both private and public schools.  In most cases now, students learn Navajo from their parents. If not, their Native language is not being passed on and the tradition is dwindling.
COVID-19 Activities
Distributed more than 300 bottles of hand sanitizer.
Distributed latex gloves.
Provided telephone consultation on livestock vaccines and feed.
Provided 4-H youth with livestock grooming equipment for upkeep of their animals.
Worked in conjunction with the Navajo Nation Window Rock tribal extension office to organize a virtual 4-H livestock show and sale for youth.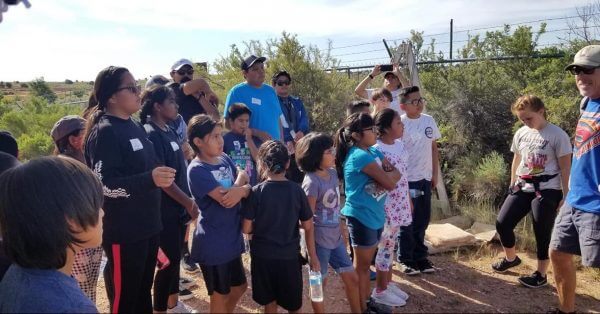 4-H Youth Program
The Youth Program is comprised of community clubs throughout the Shiprock Agency's territory. Operating with a variety of partner organizations, the goals have been to recruit, train and monitor 4-H leaders and volunteers; promote 4-H youth development in all communities on the Navajo Nation; and take part in youth development activities. During the summer, 4-H youth work at chapter houses, gathering places on the Navajo Nation where residents have the opportunity to express their opinions and make communal decisions. Students often participate at the fair where nearly 150 youth from five different 4-H clubs and other school organizations, take part. Although it can be difficult finding volunteer leaders to start a club, the Extension youth program has been quite successful.
Livestock Management Program
Extension educators worked closely on this initiative with multiple stakeholders – including grazing officials, elected officials and others – from 20 communities in New Mexico, Arizona and Utah along the San Juan River. The training was focused on record keeping because this is a requirement to receive compensation through government programs. Participating producers met on a quarterly basis to learn more about nutrition and care of livestock, with a focus on herd health and types of diseases.
Native Rancher Shortcourse
The focus of this course was on Native foods. Many farms on the reservation were being transferred into the hands of women who were not familiar with production. Among other things, the course taught participants how to market their products. They learned how to make Native foods from blue corn and other traditional foods, helping to add value to their products. The course also covered living wills and the importance of conservation plans.
Contact Information
Alexandra Carlisle – Extension Educator
505-368-1028 or 505-330-1443
acarlisle@email.arizona.edu