Located in the high desert of northern Nevada, the 450-square mile Duck Valley Reservation straddles the state line between Nevada and Idaho and is home to the Shoshone-Paiute Tribe. The tribal headquarters is located in Owyhee, which is 100 miles north of Elko, Nevada and 100 miles south of Mountain Home, Idaho.
Activities
Farming and ranking are the main sources of income for the more than 2,000 tribal members with 12,000 acres dedicated to farming, ranching and other agricultural use and 269,000 acres used for grazing cattle and horses. The Duck Valley FRTEP extension program is focused on agriculture, youth development, and local and traditional food supply. Extension agents work with farmers and ranchers on financial and production risk management, local food production through the hoop house program, youth development in Veggies for Kids and RezRIDERS, and statewide participation in the Nevada Tribal Advisory Council.
Highlights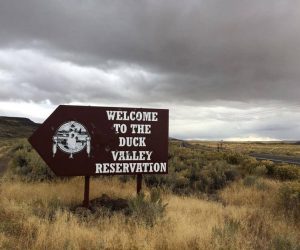 MEASURING IMPACT
"…what's been most helpful, is that the Extension office here serves as a resource to people of all ages in our community. They provide us with a lot of knowledge. It's very specific to our community, so it fits our needs whether its 4-H, livestock, or agriculture."   "…the simple fact that [because of help from Extension] I've been able to change traits of my cattle with the AI-ing and make a stronger breed out of my cattle. That all comes back to marketing, too, because a better cattle brings in better prices."
FRTEP programs have had a major impact on individuals, families and tribal communities. Just how much impact has now been quantified thanks to a research project that used Ripple Effects Mapping (REM) and content analysis. The Indian Land Tenure Foundation (ILTF) engaged in a joint collaboration with an evaluation team and the Western Extension Risk Management Education Center to measure the long-term impacts of the Federally Recognized Tribal Extension Program (FRTEP) serving the Duck Valley Reservation. Click the link below to read the report.
Hoop House program
In the past, cattle and horses have traditionally been the primary livelihood for the Duck Valley Shoshone community, but the community has evolved from concentrating on livestock to developing a hoop house program. This effort has resulted in more community engagement with a new grower/farmer audience.  As of August 2020 there were 22 hoop houses in Duck Valley, including six community units and 16 individual family units with more in progress. 
RezRIDERS
Reducing Risk through Interpersonal Development, Empowerment, Resiliency and Self-Determination (RezRIDERS) is a program for adolescents that focuses on core values, optimism, self-determination and self-regulation. The two primary goals of the program are to reduce adolescent substance use through self-regulation and to reduce symptoms of depression. The program has been temporarily suspended for health and safety reasons due to the COVID-19 pandemic.
Veggies for Kids
The Veggies for Kids program supports healthy eating by promoting increased intake of fruits and vegetables, whole grains, water and nutrient-dense beverages. It also increases appreciation for, and use of, healthy traditional Native American and Hispanic foods while providing an introduction on how to grow vegetables. This is an in-school program for kindergarten through 3rd grade that is based in the Owyhee Schools which are part of the Elko County School District.
Veggies for Seniors and Seniors Eating Well
Duck Valley FRTEP agents are now establishing a program that will supply fresh fruits and vegetables to senior citizens ages 75 and older. Fruits and vegetables are being locally sourced and will be distributed to eligible residents. The program will begin when it is safe to do so.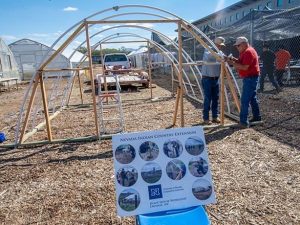 Contact Information
Reggie Premo – Extension Educator