The Jicarilla Apache Nation is located in the mountains and rugged mesas of northern New Mexico northwest of Santa Fe.
Activities
The mission of the New Mexico tribal extension program is to develop and deliver community-based education programs that help to revitalize agriculture, implement culturally appropriate youth leadership programs and strengthen the bonds between individuals, families and communities. Tribal extension programs provide education based on the specific needs of local communities, and tribal cultures and language are incorporated in presentations for adults and young people. The goal is to improve family welfare and the quality of life on the Jicarilla Reservation by increasing economic opportunity, enhancing natural resource stewardship and promoting healthy lifestyles.
Highlights
Agriculture & horticulture
The majority of all tribal operations are located within the town of Dulce, N.M. and a vast majority of producers on the reservation manage cow-calf operations. There are also a significant number of hay/forage operations. To be competitive within local, national and international markets tribal producers need to receive current technology and information from New Mexico State University that addresses local needs.
Water is one of the most important limiting resources for agriculture on the Jicarilla Reservation, and all aspects of water use affect agricultural efficiency and profitability. Water management will become more critical as the demand for water increases with greater urbanization and industrialization.
Jicarilla Beef Project
The Jicarilla Beef Project provides the opportunity for tribal cattle producers to increase profits by participating in a labeling program that enables the producers to receive a premium price for their beef.
Horse Health
Presentations on horse health are conducted regularly to provide information on body condition scoring, proper feeding of animals and overall horse care. Youth horse clinics are also held to teach young people what it takes to care for horses.
4-H Youth and Development
The Jicarilla 4-H youth development program is a dynamic, non-formal education program that provides opportunities for youth to learn life skills and gain knowledge while having fun. The skills they learn in 4-H enable youth to become productive, well-informed, self-reliant, responsible adults. These programs are designed to fortify and revitalize agricultural and natural resource practices, develop 4-H youth leadership opportunities and strengthen families.
COVID-19 Activities
Advised producers on drought response.
Provided education to livestock producers on marketing options, including direct marketing.
Provided education to producers regarding federal grants and loans available to offset the effects of COVID-19 on their operations.
Provided education regarding planting dates and varieties of vegetables that will grow at the elevation level of the reservation and in local soil types.
Assisted the Jicarilla Department of Agriculture in beginning hog and egg production.
Began the development of a food security plan for the community.
Initiated a forage research project on 16 varieties of forage in conjunction with New Mexico State University, the USDA Natural Resourses Conservation Service and other tribes and pueblos in New Mexico.
Advised producers on hay production and availability of hay in the local area.
Advised producers on the treatment of grasshoppers.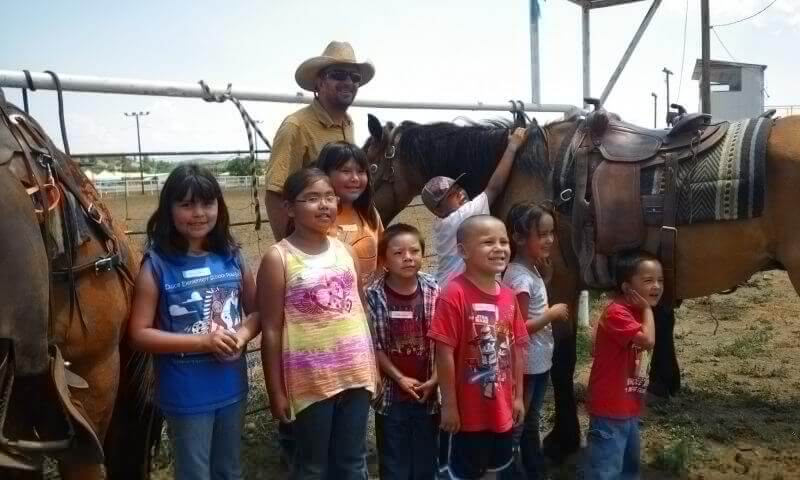 Contact Information
Katherine Landers – Project Director